welcome to
baobab_dansei
!! \(^_^)/
this community is maintained by me,
hiroki_chan
and
yuliyudo
.
before you participate in this community I'd like you to read the simple rules we have in this community:
*you must be a fan of either one of the Baobab guys, whoever he is.
*no bashing / flaming to current seiyuu even if you don't like him. respect everyone's opinion.
*please check the tag before posting to make it easier when searching back entries.
if you have difficulties in finding the correct tag, please contact the mods and we'll be ready to help you.
*introductory posts are not necessary, however if you feel like sharing while posting for the first time, feel free to do so.
*don't forget to use LJ-cut if the post is too long or the picture is huge
*DO NOT REPOST downloadable-media content outside the community, unless you got permission from the uploader.
*when sharing files, please credit the original uploader (optional)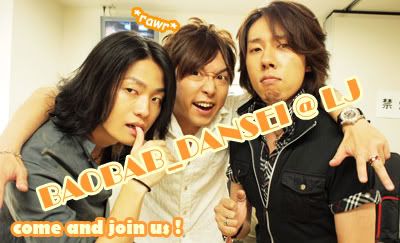 note that this community is
member-locked
so you need to join to see what's inside.
now, let's have some fun ~ !!
PS:
empty journal will be rejected.
exception if you drop us a message and tell us why you want to join
this is spam-attack prevention. thank you for your understanding
Current Mood:
cheerful
Current Music: alan - Nobody knows but me